Archive for December 24, 2015
December 24, 2015
Welcome in 2016 at Joel's New Years Eve Party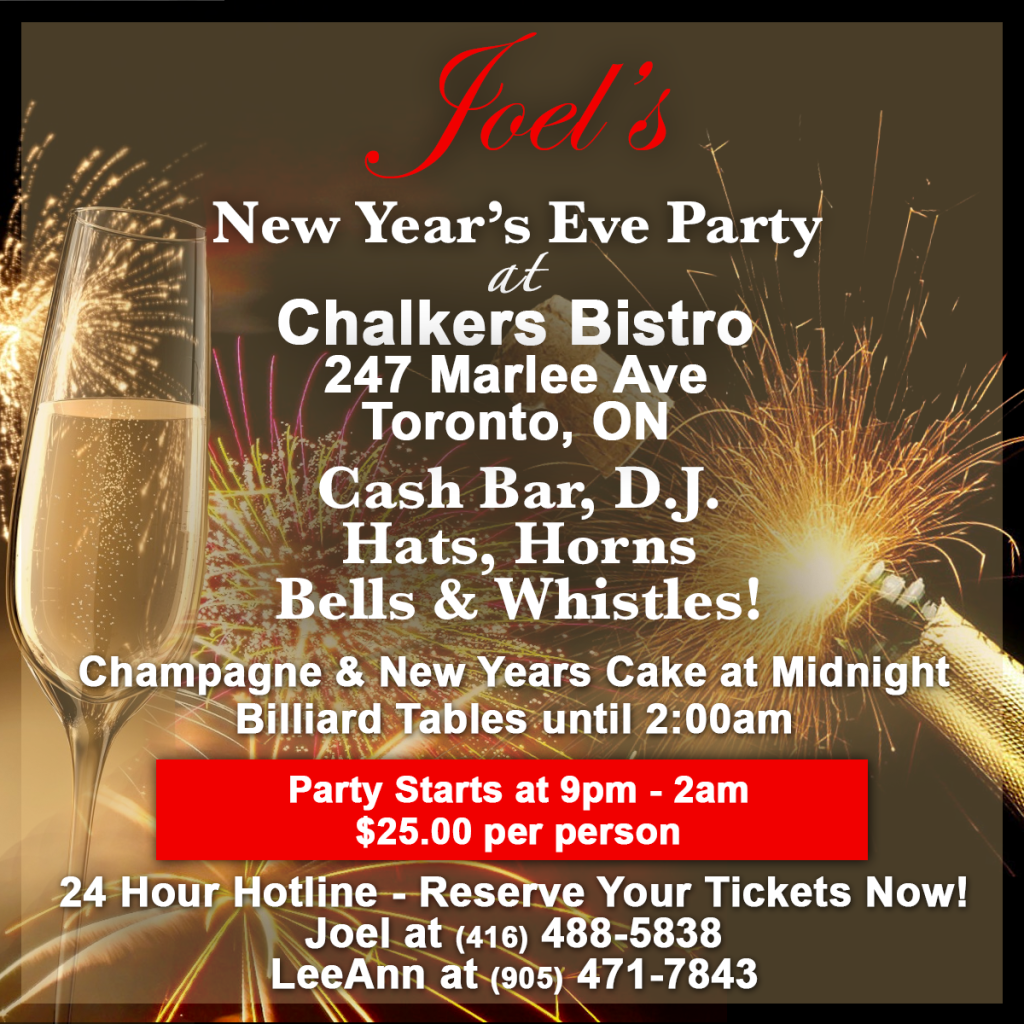 By request, we are celebrating the end of 2015 and welcoming in 2016 at everyone's favorite location –
Chalker's Bistro – 247 Marlee Avenue,
just an 8 Minute walk to the Glencairn Subway or you can bring some friends at stay at the Holiday Inn,
only minutes away by cab.
The MOST interactive and FUN New Years EVER and absolutely the best value for your dollar in Toronto.
The best place to dance, mingle and meet lots of new people this New Years Eve. Same great music and FUN AND WE HAVE THE WHOLE RESTAURANT for our private party and absolutely the best singles deal in Toronto …BAR NONE! No one else even comes close to this value.
You won't be stuck sitting in the same seat at a table all night long! Lot's of space to mix and mingle in a fun and relaxed atmosphere!
ALSO INCLUDED: Champagne at Midnight, New Years Cake, Noise Makers and Party Favors, Bells and Whistles, DJ and Dancing – If you want to hear a song post it and we will get it played , 11 Billiard Tables and Tax and Gratuity.
ONLY $25.00!! WOW!! The absolute best value in Toronto!!!
An amazing deal and one of the most fun New Years Eve celebrations you have experienced!
Tickets non-refundable – Dress: Festive
Call Joel at (416) 488-5838 to reserve your space or LeeAnn Jensen at (905) 471-7843
Tickets on sale now!
See you there to welcome in 2016!
Read the CASHBOX Story