An Amazing Summer Event for your and your friends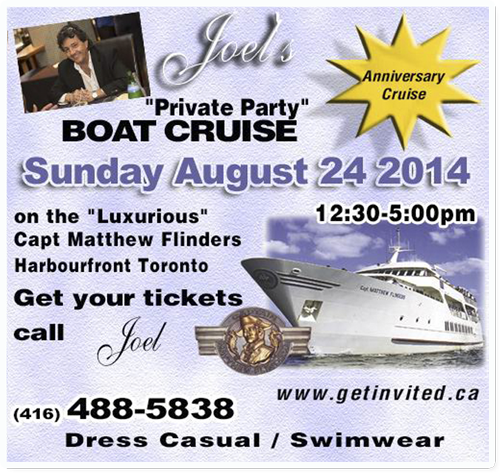 Sunday August 24 2014
The Annual "Private Party" Boat Cruise
on "The Luxurious" Captain Matthew Flinders
12:30-5:00p.m.
It's another great event of the summer!
This is a great way to party with old friends or an excellent way to meet new friends on a Sunday afternoon! You'll party with 600 people! Full buffet, cash bar and D.J.
Reserve Your Tickets Today. It's still only 35.00 p/p You'll also be invited to the after party – so it becomes a full day event.
Tell your friends it's still The Best Party on the Water!
24 Hour Hotline Joel (416) 488-5838
See the video clip from a previous cruise


View Pictures From the Last Cruise
Read the CASHBOX Story