BellTech Gas Services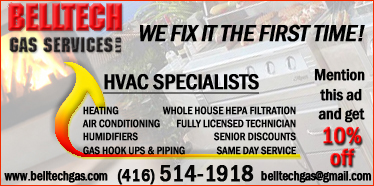 "We Fix It Right The First Time"
Call BellTech Gas Service for heating, cooling and gas service in the GTA and surroundingarea. BellTech performs a wide range of services for homeowners, including air conditioning, heater and gas line installation.
BellTech's trained servicemen are also available for maintenance and repair, including the hook up of gas appliances. BellTech has over 10 years of experience and are fully licensed and insured, so you can rest easy.
Terry can be relied on to provide professional, high-quality work and is always punctual with his client appointments, to provide you service on time and done right.
If you would like a quality job done and at a reasonable price, give Terry a call today:
(416) 514-1918
All work is TSSA licensed and insured.